Tag Archives: timmy dutton
Can you guess how he got his nick name?
FUN Jumpers: Monkey- Timy Dutton (Rubber Ducky) from UnofficialNetworks.com on Vimeo.
Many people have pondered this same question which has been nagging at many of the world's greatest thinkers for months. It also is the question ESPN Freeskiing asked. Check out the article below along with some other insightful content that can shed light into who Tim Dutton really is.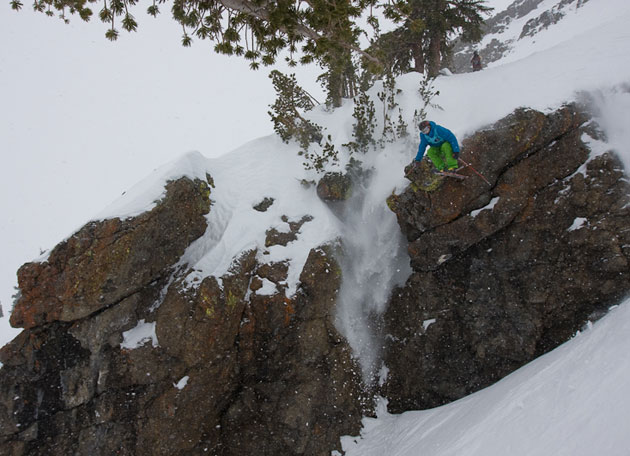 Who is Tim Dutton?
For starters, he is your 2009 FWT North American Freeskiing Champion, by way of Kirkwood Friday/Saturday, but it's intriguing because he basically strolled in as an unknown—this was his first-ever comp—but he didn't let that or much else get in his way.
Dutton, who hails from Squaw Valley (see press release below), showed up at Kirkwood and, since this was his first-ever comp, had to qualify first. So he went out Thursday all conservative-like, qualifiing in 17th position with a modest score of 32. This is a familiar story actually, except that on Friday Dutton came out and won the day. Score: 37.06. And Saturday, Day 2, Dutton came out again and won the day. Score: An unheard of 43.13. The combined total gave Dutton the win by more than seven points over the likes of Julien Lopez, the runnerup and Sickbird award winner.
So who is the guy? Good question. This much is clear: Right about now he's hitching his skis to his horse and riding off into the sunset or whichever way the wind blows.
Interview with Freeride World Tour talking about how excited he was for the tour, little did anyone know he'd burst onto the scene like a freight train.
D.O.B.: 3/1/87
Height: 5′ 7″
Hometown: Squaw Valley
Other sponsors: Bolle, Hemp Hoodlamb, Lib Tech
Favorite Trick: Powder Skiing
Favorite Pro Rider(s):Dash Longe, Shane McKonkey, Eric Messier, Josh Feliciano, Jeff McKitrick, George Hjelte, Michelle Parker, Mike Wilson, ect.
Chicken, Beef, or Veggie?Cheese Puffs
Favorite music or CD? 105.7,my car doesn't have a cd player
Inspirational players in your life:I can juggle and ride a unicycle at the same time
Any other special talents or hobbies you would like to tell everyone about? you don't want to know…
Any thing else you would like to add? Ladies, I'm a firefighter in the summer